Main content starts here, tab to start navigating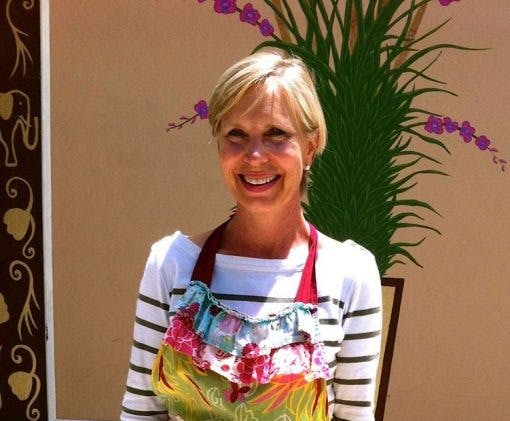 Kara Lynn
Owner
Hi my name is Kara Lynn and this the story of Kara Lynn's Kitchen and Good2GoPaleo:
I NEVER INTENDED TO START A RESTAURANT.
In 2012, I enrolled in a medical nutrition class at a local community college. I was considering pursuing a Masters in Nutrition and wanted to see if this was a good career option. In that class I learned that most dietitians and nutritionists work with people who are sick or hospitalized. They often have to work with medication requirements. Most meal plans followed the Standard American Diet food choices. This was not the path I wanted to follow. I kept thinking that if people ate the right food, they could avoid most of the health issues they later end up with. This is where I wanted to focus.
In March of 2014, my daughter called me in desperate need of help. She'd had a history of migraine headaches starting in her teens and had been hospitalized for them twice in the last six months. She asked if I could help her with her diet to see if it would make a difference in her health. We decided to try the paleo auto-immune protocol (AIP) for three months and see if it would help with her migraines.
After the first day, she noticed she did not have a heavy, groggy feeling in her head when she woke up. After that she went 5 record-breaking weeks with no headaches. Then one morning, she forgot her breakfast and stopped to pick up an egg-croissant sandwich. This contained wheat, eggs and dairy…all of which had been eliminated from her diet. By that afternoon, she had a full blown migraine and was at the emergency room that night, the pain was so terrible. That was all it took to convince both of us that sticking to her AIP way of eating was working. Among the other health benefits she experienced because of her dietary changes, she also lost 15 pounds, increased her energy levels and overall health and began living a healthy, fit and headache free life.
With her success, several of her co-workers asked if they could also follow her diet and order my food. Thus began the beta test for Kara Lynn's Kitchen. With every person who started eating the clean and natural food prepared following the AIP guidelines there was an immediate improvement in health and most experienced immediate weight loss while enjoying delicious, nutritious food. For three months we tested recipes, menu items, and delivery and packaging options. Without advertising or promotion, we had a waiting list of people wanting to participate in the program and new calls every week.
I finally decided I would find a commercial kitchen to fill the many requests I continued to get. So armed with a business plan and the help of some very good friends, Kara Lynn's Kitchen was on its way to becoming a reality. People got very excited when they heard my Kara Lynn's Kitchen restaurant was in the works and the Facebook page a friend of mine created for me soon had hundreds of friends waiting for the day of our opening.
Little did I know when I took my first job at 15 in a University food service that I would be drawing on that experience today. Over a three year period, I learned every job in the cafeteria and bakery except for the actual cooking…and that was only because I was not old enough to operate the machinery. I learned the service end of the restaurant business when I was a student in college and worked as a server in a chain restaurant to earn money for books and tuition. In the summer of 2013 I had an opportunity to learn the management side of the restaurant business when I was hired to be an assistant manager at the Met on Main in Nantucket, MA. It was a non-stop challenge from 7 – 3 every day. We gained an excellent reputation for service and had many hotels referring their guests to our restaurant. At the end of the summer, the owner of the restaurant offered to train me for a management position in her Metropolitan restaurant group in Boston, MA. It was tempting, but in the end, Florida winters won over the cold and snow of the East Coast. I never dreamed I would end up starting my own restaurant in downtown Clearwater.
MY ORIGINAL PLAN – HELPING PEOPLE THROUGH NUTRITIOUS FOOD
When we opened Kara Lynn's Kitchen in July of 2014, our plan was to offer paleo autoimmune pre-packaged meals for people who did not have time or knew how to cook the food that would give them optimum health benefits. Word got out that there was a paleo restaurant in town and our business model of offering Good2Go meals quickly changed to a paleo restaurant offering two entrees, soups and a variety of salads and quiches for lunch every day. As we were not set up in the kitchen (yet) to offer a full menu of numerous entrees and side dishes, we gave our customers two new, delicious choices everyday using all grass-fed and pastured meats and organic veggies and fruits. When we could squeeze in additional oven time or refrigerator space, we made special Paleo dessert treats for our customers. Within a year we grew to serving lunch and dinner with an expanded menu including a variety of entrees, soups and salads, quiches, kid friendly meals and of course, our paleo based dessserts.
Kara Lynn's Kitchen, even though we use Paleo recipes and dessert concepts, is not limited to just people who eat Paleo style food, which is why our tag line is "A RETURN TO REAL FOOD". While our menu is designed to help those making healthy changes through their food choices, we love to serve all people who enjoy delicious food that tastes like it was made at home from scratch in your grandma's kitchen. Eating grass-fed beef, wild caught fish and pastured meats is a healthy start, along with no grains/gluten and desserts made with honey or maple syrup. We give our customers a unique dining experience unavailable in traditional restaurant models.
You can join us for lunch or dinner at 421 Cleveland Street in downtown Clearwater. Come in and see why Kara Lynn's has such a loyal following of restaurant patrons and, if you'd like to join the hundreds of people who have embraced the return to healthful eating without having to cook for themselves, you might want to try our Good2Go meal program where we offer healthy meals modified to fit most dietary needs. You can find out more by clicking on our link above.